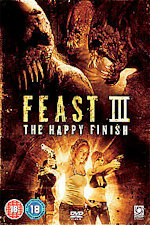 Picking up immediately where Feast 2 left off, our lead protagonists are rescued when another couple of macho hero types burst into town, a gun toting redneck named 'Shitkicker' and a self styled kung-fu fighting warrior named 'Jean-Claude Seagal'.
Of course, keeping in style with the previous films, neither of these characters stick around long enough to be much use beyond getting them out of their immediate predicament, and so they soon find themselves on the run again, hiding out in various empty buildings and crawling through various sewers trying to fend off the ferocious beasts which are still on the loose.
Things seem to be looking up for our plucky survivors when a third 'hero' arrives in town, a mysterious holy man named 'Shot-Bus Gus', who claims to be a prophet and has the mysterious ability to control the beasts.
Trying to get out of town, they find themselves trying to dodge more beasts, infected humans who seem to be displaying cannibalistic tendencies and a new beast/human hybrid that emerges after one of them gets anally raped by one of the creatures (yes you heard that right).
The entire cast of the previous film return, including the Bartender (Clu Galagher), Slasher (Carl Anthony Payne), Biker Queen (Dianne Goldner), Tat Girl (Chelsea Richards), Secrets (Hannah Putnam) and of course Greg (Tom Gulager), complete with the iron pipe still sticking out of his skull from his injury in the previous movie.
Overall this is a pretty funny film and a marked improvement over part 2, there's more gross out special effects, plenty of slapstick gore, including a hilarious scene where someone tries to cauterise an arm wound using gunpowder, ala Rambo 3, with disastrous consequences and an anal rape scene between Slasher and one of the beasts that is bound to make everyone cringe in disgust.
The only downside is that there is too much time spent running round in circles and crawling through sewers and not enough gun battles. The sub-plot with the infected humans just seemed to be a cheap way of introducing more creatures without having to have more monster suits and I was actually quite surprised that Honey Pie's character wasn't in the film much, as the way part 2 ended you were lead to think the film would be about her.
But anyway, if you're a fan of the previous films you should dig this, although I'm still not sure what to make of the twist in the ending. Just remember though , you might not have any arms but you only need 2 legs to "kick ass"!
Overall marks : 5.5/10.