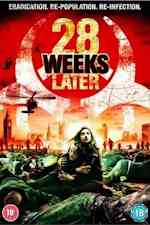 28 Days Later had proved a huge cult hit for cult Director Danny Boyle, so it was only a matter of time before a sequel duly appeared. Boasting a much larger budget than its predecessor, and directed this time by newcomer Juan Carlos Fresnadillo, 28 Weeks takes the unusual step of starting afresh with a new script and characters, rather than following straight on the last film.
Set some 6 months on from events of 28 Days Later, the bodies of the infected and their victims are now lying dead in the streets and a huge military operation, lead by the US Army, has begun to clear up and re-populate the country.
Having established a base in the former London Docklands area, civilians are slowly being transported back in to help the military with the day-to-day running of their base. But problems start when one of the building supervisors, Donald Harris (Robert Carlyle), a survivor of the previous rage outbreak, discovers his wife has been found alive and is in quarantine. When he tries to get in to see her for himself, it unravels a deadly chain of events that sees the rage virus unleashed inside the military complex, which quickly tears through the civilian population.
Believing that Donald's children posses a cure to fighting the infection, a female military doctor, Major Scarlet Ross (Rose Byrne), and a sympathetic soldier, Sgt Doyle (Jeremy Renner), who chooses to ignore his orders and help the survivors, attempt to get them out of the docklands and away to safety.
However, with the infected on the rampage again and the military shooting on sight anything that moves, staying alive is going to be a lot tougher than before.
As with the the previous film, the movie is high on action, suspense and fear and despite its flaws (if the infected are running amok, is it really such a bright idea to lock everyone in the basement and turn the lights off?) if you enjoyed the last film, you should definitely enjoy this. No Cillian Murphy this time though.
Overall Marks : 6/10.