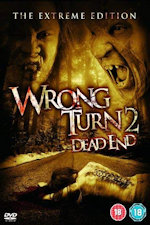 This direct-to-video sequel to the 2003 theatrical film stars madcap rocker Henry Rollins as a former marine, turned reality TV show host, who's filming a series deep in the West Virginia woods entitled "Ultimate Survival". In which 6 contestants have to survive alone in the wilderness for week, as well as completing a number of tasks, in order to win a substantial cash prize.
Unfortunately, for them, it seems the particular area of woods they've decided to film is inhabited by another group of inbred cannibal mutant hillbillies, much like the ones from the previous film, and fairly soon the group find they've got a REAL battle for survival on their hands.
Several members of the group get picked off and carved up in a variety of nasty ways, whilst the surviving members try to find a way out of the woods and back to civilisation. However, the hillbillies haven't counted on the resourcefulness of the shows host Dale Murphy (Rollins), who puts his Marine training to good use and starts to turn the tables on them.
Unlike the previous movie, which was a straight horror, this one has more of a campy feel to it and seems to have been made as more of a dark comedy. Henry Rollins is aptly cast as the gruff former Marine Colonel, whilst "Texas Chainsaw Massacre's" Erica Leerson puts in an appearance as one of the contestants.
Whilst there are some genuinely funny moments, such as when the group realise just what the barbeque meat is they're actually eating, I felt the film pailed in comparison to the original. Worth a watch, though I'm not sure the additional humour works in its favour.