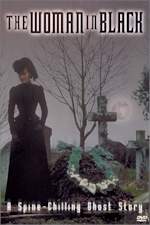 Long before being turned into a big budget movie for the cinema, I was surprised to learn that Susan Hill's gothic ghost story "The Woman in Black" had been adapted for the screen once before.
Filmed back in 1989, this modestly budgeted made-for-TV movie stars Adrian Rawlins as solicitor Arthur Kidd (note, he was called Kipps in the novel), who is sent to a remote English town to oversee the sale of an old mansion who's owner, Mrs Drablow, recently died.
Heading out to her estate, Eel Marsh House, a remote mansion located on an island that's only accessible at low tides. Mr Kidd proceeds to go through her legal paperwork and sort out her belongings. But he soon becomes aware that he isn't alone (well he wouldn't be would he?).
Strange noises and weird voices can be heard in the house, doors mysteriously lock and unlock themselves, plus he notices a strange lady in black following him around. Eventually fleeing from the house in abject terror, he later learns about how the property is supposedly cursed and about the strange misfortunes that happen in the village whenever the mysterious woman is seen. But will returning to London end his terrifying ordeal?
For the most part, this adaptation was more like a period drama than a horror film. There were quite a few good ghostly chills, I particularly liked the way the lady would mysteriously appear in the background, then disappear again using good old fashioned camera trickery. However, there did seem to be quite a few long periods where nothing much really happened and felt there was far too much narrative, as opposed to action.
But, bearing in mind this was a British TV movie, this is still quite an enjoyable ghost story. If you've seen the 2012 feature film version, you might want to check this one out. However, at the time of writing, the film is not currently available on home video and has pretty much languished in obscurity since its original showing back in the late 80s. But if you really want to see this and know how to use Google, a cursory search round some video sharing sites should yield positive results.