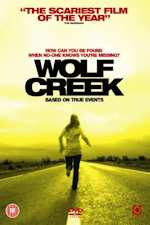 Set in Western Australia, a group of backpackers buy a cheap car and decide to go on a touring holiday round some of the remoter regions of the country. Their first stop is the site of a giant meteor crater at Wolf Creek national park.
Having spent the day hiking round the scrub, they return to their car only to find it now refuses to start. Marooned in the middle of nowhere with darkness setting in, they are forced to bed down for the night, in the hopes someone will come along in the morning.
As luck would have it, a local trapper on his way home from hunting happens to come across them and offers to tow them back to his workshop, where he claims he can fix their car. Somewhat suspicious of this cranky local, they are forced to accept his help as the only alternative is the thin hope of bumping into someone else.
Of course, his kind offer of help turns out to be nothing of the sort, as their erstwhile rescuer turns out to be a complete psychopath and the group find themselves in a deadly cat and mouse game with the psychotic hunter and his arsenal of high power rifles and razor sharp hunting knives.
Loosely based on a true story, Wolf Creek plays pretty much like an Australian Texas Chainsaw Massacre and is surprisingly brutal for a film of this nature. There are some neat plot twists and the films constant shift in direction as to who the lead character is, continually throws you as to who the next victim will be. My only gripe is that it spent far too long setting up it's central premise, which took up a whopping 50mins of the films 90min running time, with only the last half hour or so containing any action. But apart from that, the film is sufficiently entertaining.
Just remember though, if you visit Australia DON'T go making any Crocodile Dundee jokes to the locals!