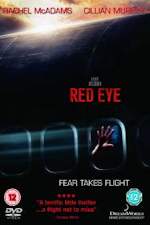 Horror director Wes Craven decided to turn his hand to suspense thrillers for a change, to bring us this tale of terror from 30,000 feet. You know what it's like whenever you use public transportation, particularly if you're travelling alone? You always end up sitting next to some oddball, eccentric, or other undesirable.
Well, for Hotel manager Lisa Reisert (Rachel McAdams) who's taking the Red Eye flight from Dallas back to Miami, her seatmate, a man named Jackson (Cillian Murphy) appears to be the perfect gentleman. Having previously met at the airport bar, she is surprised to find herself sitting right next to him on the flight home.
Unfortunately, right after take-off, Jackson reveals that their previous meeting and seating arrangements are in fact no-coincidence. Jackson is in fact part of a terrorist group that wishes to assassinate a high ranking US official who's staying at her hotel, but in order for their plan to succeed they require her assistance.
Warning her that her Father's life depends on her co-operation, she is forced to try and find a way to alert the plane staff and somehow warn her Father about the danger he is in, without endangering the other passengers, before they land.
Overall, this is a very good film, though doesn't really inject anything new to the genre. Definitely worth watching, but unless you're a Wes Craven completist you may wish to consider renting, as opposed to buying.