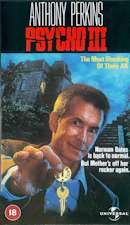 Picking up about 6 months after the events of Psycho 2 and Norman's up to his old tricks again. "Mother" is back in her room, the motel's re-openeed and buisiness is looking up.
Hiring a new manager, a drifter named Duane (Jeff Fahey), to help him run the place, matters are complicated by the arrival of a young woman named Maureen Coyle (Diana Scarwid), a former Nun who bares an uncanny resemblance to one of Norman's earlier victims.
Meanwhile, a news reporter (Roberta Maxwell) is busy investigating the disappearance of some locals, and thinks Norman has reverted to type. Despite the fact the town seems very supportive of Norman, the disappearance of more townsfolk only further leads her to believe he's responsible.
Duane, the new manager, is certainly wary that Norman isn't all he appears to be either, but with the Sheriff unable to find any evidence of wrongdoing, is Norman innocent, or is there something else sinister going on, and will Maureen be safe from Norman's "Mother"?
Directed this time by Anthony Perkins himself, Psycho 3 is another good follow up to Hitchcock's original. Containing some interesting plot twists, that will keep you guessing as to what's going on, right till the end. If you enjoyed part 2, you should find this equally entertaining.