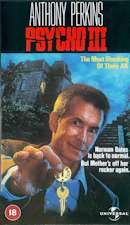 Picking up about 6 months after the events of Psycho 2 and Norman's up to his old tricks again. The motel's re-opened, and the body of the woman who he now thinks was his real mother is occupying the main bedroom at his house.
Business is looking up at the old place and so Norman hires a new manager, a drifter named Duane Duke (Jeff Fahey), to help him out. But matters are complicated by the arrival of a young woman named Maureen Coyle (Diana Scarwid), a former Nun who's run away from a convent that has an uncanny resemblance to Marion Crane.
Norman is horrified and believes her to be Marion's ghost coming back to haunt him. But after donning his mothers old clothes with the intention of killing her off a second time, he enters her bathroom only to find that she's done the job herself and cut her wrists. The plot then takes a sudden twist, as instead of finishing her off, he saves her life and takes her to the hospital.
Meanwhile a news reporter named Tracy Venable (Roberta Maxwell) has come to town to speak with Norman about a story she's doing, however she's really there to investigate the disappearance of Mrs Spool who used to work at the nearby diner.
Despite the fact the whole town seems very supportive of Norman, the disappearance of more townsfolk leads her to believe he's reverted back to his old ways. Duane the motel manager is certainly wary that Norman isn't all he appears to be either, but Maureen isn't convinced and her and Norman begin to fall in love.
When the Sheriff (Hugh Gillin reprising his role from part 2) searches Norman's house, but finds nothing, it looks like he's in the clear. But what's happened to "mothers" body and just how much does Duane actually know? Tracy does some checking of her own and makes a shocking discovery about Mrs Spool's actual relationship with Norman, and finds out what he's been up to, but will Maureen find out too late?
Directed this time by Anthony Perkins himself, Psycho 3 is another good follow up. If you enjoyed part 2, you should find this equally entertaining.
Overall Marks : 6/10.