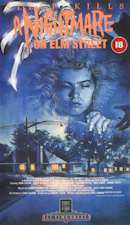 One of the most successful horror films of the 1980's, Director Wes Craven's seminal slasher takes place on a regular suburban street, where young Nancy Thompson (Heather Langenkamp) and a number of her teenage friends have been suffering sleepless nights, as a result of terrifying nightmares which all involve a horribly burned character named Freddy Kruger, who sports a glove with razor-blades on the fingers.
Co-incidentally, they discover there was a child murderer of the same name who lived on Elm Street some years ago, until a vigilante mob torched his house and burned him to death. Well, it seems this child killer could now be striking out from beyond the grave and unfortunately, it seems if you die in your dreams you die in real life and so there seems to be no real way of stopping him.
With Nancy's friends getting bumped off in various grotesque ways (one of which being a young Johnny Depp, in his first screen role). She and her remaining friends have to try and find a way of stopping Kruger (played by horror B-movie regular Robert Englund) before he kills them all.
Also starring B-movie regular John Saxon as Nancy's father, the film boasts some spectacular kills and a hell of a lot of blood (particularly Johnny Depp's "Death by Waterbed"), which should keep slasher film fans happy. Though I must admit, I was never really a fan of the this, as it seemed very similar to the film "Dreamscape" which was released in the same year, plus Robert Englund was also known for playing a 'comic stooge' in the sci-fi series "V", which was a popular TV show at the time, so I struggled to take him seriously.
However, my personal feelings aside, there is no disputing this films popularity, which proved to be one of the most popular horror's of the 1980s and Freddy Kruger, judging by the amount of sequels, has proven to be one of horror's most enduring characters. So the film should be regarded as required viewing for all fans of horror.