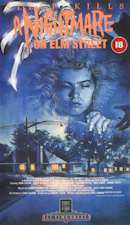 One of the most successful horror films of the 1980's, was undoubtedly this notorious slasher film from genre director Wes Craven. In this, Heather Langenkamp stars as Nancy Thompson, one of several teenagers living on the suburban street of "Elm Street", who have been suffering sleepless nights as a result of terrifying nightmares.
Things start to get a little weird when she finds out all her friends have been having the same re-occurring nightmares too, which all involve a horribly burned character named "Freddy Kruger" who sports a glove with razor-blades on the fingers. Co-incidentally, there was once a child murderer by the same name who lived on Elm Street some years ago, until a vigilante mob burned him to death in his house.
Well, it turns out that the character in their nightmares and the dead killer are indeed one and the same person. As is the case in most horror films, demented psychopaths never let death stand in the way of of things, and so Kruger (as played by Robert Englund) has to carry on killing the children of Elm Street, by striking at them in their dreams.
Unbeknown to our teenage friends, but known to us, it turns out that if you die in your dreams you die for real and so you can imagine the confusion when Nancy's friends start waking up to find their partners have been murdered in the most gruesome of fashions, particularly her boyfriend Glenn (played by a young Johnny Depp) who's bed swallows him up, then sprays his blood and guts all over the ceiling (very nice!).
Nancy's father (as played by John Saxon), who also happens top be the local sheriff, doesn't believe any of the Freddy Kruger nonsense and thinks that the killer is in fact her friend Rod (Nick Corri). So being a resourceful type, Nancy sets out to put an end to Freddy's reign of terror by playing him at his own game. But how do you kill something that is already dead?
I never could understand why this film proved so popular, particularly as its whole concept about dieing in your dreams had been ripped off the movie "Dreamscape" which had been released a couple of years previous. Also I had a hard time taking Freddy Kruger seriously, as actor Robert Englund, had previously played a comical alien "stooge" in the Sci-Fi TV series "V".
Love it or hate though, there is no disputing this films popularity. Nightmare on Elm Street was one of THE most popular films of the 1980's and Freddy Kruger has proved to be one of horror's most popular and well known characters, and judging by the amount of sequels we haven't seen the last of him yet.
Overall Marks: 6/10