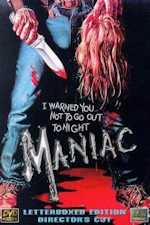 Ah... they sure don't make 'em like this any more. Directed by William Lustig, Maniac tells the story of a psychotic killer named Frank Zito (Joe Spinnel), a Ron Jeremy look-alike, who's stalking the streets of New York looking for young women to kill, so that he can take their scalps for his grisly collection (if you don't know who Ron Jeremy is, DON'T ASK!).
It turns out that Frank really misses his mother, who was killed in a car accident years earlier. Despite the fact that she was a prostitute and was very abusive towards him, he still misses her and even has a permanent shrine to her in his apartment.
But Frank isn't just another "Norman Bates", he tries to keep his mothers memory alive by going out and committing these gruesome murders, then displaying his victims scalps on mannequins in his apartment. That is until he meets a beautiful young photographer named Anna (played by former Bond girl Caroline Munroe) with whom he becomes fast friends and very soon begins to develop a relationship with.
Unfortunately, this doesn't stop him from going out in-between dates and murdering a few more hapless victims, who he strangles, stabs and garrottes in loving detail, as well as blasting the heads off a young couple with a shotgun in one of the films more memorable scenes. Eventually he turns his murderous attentions towards Anna, who's still non-the-wiser to his extra curricular activities, only to find that not all victims are such easy prey.
This is a very fine example of just how good a low budget production can be and is by far the best movie that William Lustig has done to date. The special effects work is also excellent, but then you would expect no less from horror maestro Tom Savini and SFX wizard Rob Bottin. Jay Chattaway's musical score works wonderfully well and the late Joe Spinell's disturbing portrayal of the killer Frank Zito is also superb and is undoubtedly the role he will best be remembered for.
I recommend this film wholeheartedly, but if you want to see it fully uncut you'll have to fork out for an import as this film suffered a few short cuts at the hands of the BBFC. This film was rather reminiscent, in many ways, of the 1990 pic "Henry-Portrait of a Serial Killer", which also gave the UK censors much trouble.
Overall marks : 8/10.