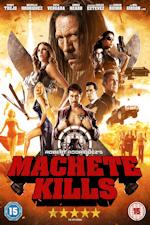 Danny Trejo returns for more over-the-top action and fun in this sequel, in which our titular hero takes on a Mexican arms dealer and much worse. The film starts off with former Federale Machete Cortez (Danny Trejo), who now appears to be working for the US border patrol, and his partner Sartana Rivera (Jessica Alba), who are intervening in an arms deal between some corrupt National Guardsmen and a bunch of Mexican Drug cartels.
However, the Mexicans are planning a double cross and wipe out the US soldiers, only to be wiped out themselves by a third group, who appear out of nowhere and steal all the weapons. Machete, the only survivor of the ensuing chaos, is subsequently recruited by the US president (Charlie Sheen) to go into Mexico and take out the maniacal arms dealer Marcos Mendez (Demian Bichir), who they believe was behind it all.
Unfortunately, Mendez has a nuclear missile aimed at Washington DC. The launch mechanism to which is wired to his heart, which will set off the missile if he is killed and his heart stops beating. So Machete has to transport Mendez across Mexico and try and get him back to the US in the hopes of disabling the device. This proves to be no easy task as he is pursued at every turn by a group of ruthless assassins looking to take him out.
Directed once more by Robert RodRiguez and featuring an all star cast, including Amber Heard, Michelle Rodriguez, Antonio Banderas and Lady Gaga, not to mention Mel Gibson who arguably steals the film as one of the main bad guys, the film was even more offbeat and bizarre than it's predecessor (something I never thought possible). The violence is completely over the top and it was great seeing Danny Trejo doing what he does best. Thoroughly entertaining, I'm just looking forward to seeing the third film if it ever gets made (a fake trailer for which is shown at the start of the film).