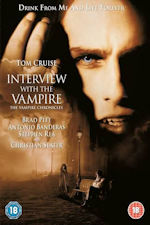 One of several vampire films to follow in the wake of "Bram Stoker's Dracula" was this adaptation of Anne Rice's novel "The Vampire Chronicle's".
Reporter Daniel Malloy (Christian Slater) follows a chap back from a party, as he believes there's more to him than meets the eye (how right he is!). Confronting the enigamtic Frenchman, Louis de Pointe du Lac (Brad Pitt) at his apartment, he agrees to be interviewed. But Molloy gets a bigger story than he bargained for, when it turns out the mysterious person he is interviewing is actually a vampire.
Louis then proceeds to tell Malloy about his former life in France, how he lost the will to live in 1791 after his wife and child died. But following a chance meeting with a vampire named Lestat de Lioncourt (Tom Cruise), he discovers a whole new world, living life as a vampire.
His story takes us through the ages, showing us how he spent the years living life in the shadows, how he and Lestat were condemned for turning a young 12 year old into a vampire, how they fell out of favour with the vampires in a travelling circus, before finally settling in America.
The film is very moody and atmospheric, and fans of "Bram Stokers Dracula" should find this equally enjoyable. I must admit I enjoyed the film considerably, however I did think it was a bit of a con giving Tom Cruise top billing, as most of the film was devoted to Brad Pitt's character. Antonio Banderas also makes an appearance, starring as the character Armand.