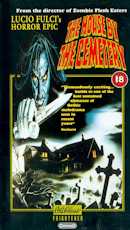 College Professor Dr Norman Boyle (Paolo Malco) is asked to take over a research project on suicide, after the previous researcher, ironically, committed suicide himself, after murdering his mistress.
So, Dr Boyle hires out the old New-England house that his predecessor was staying at and moves his wife Lucy (Katherine MacColl) and young son Bob (Giovanni Frezza) in with him, whilst he conducts his research. Of course it isn't too long before they realise that something is amiss in the old house.
A young female ghost tries to warn their young son Bob that they should not go there as, many years ago, the house used to belong to a Dr Freudstein (no, not Frankenstein), who used to conduct bizarre genetic experiments in the cellar, and something nasty still happens to be lurking down there. Of course, young Bob is unable to convince them and so in they move!
Consequently, they get set upon by giant plastic looking bats, the baby sitter gets her throat slashed and decapitated, the estate agent gets stabbed with a poker and others get axed, hacked and strung up, before Dr Boyle and his family confront the demented creature at the films climax.
Borrowing a few idea's from "The Shining", "The Beast in the Cellar" and indeed "Frankenstein". This is your typical low budget Fulci pic, parts of which are so bizarrely surreal they don't make much sense, such as when the store window dummies start dripping blood. Also, with the films low-budget, some of the effects were really cringe inducing, such as the killer bat scene, which was clearly a fake plastic toy dangling on a string and, as with all Fulci films from that era, was also heavily censored upon it's original UK release.
But it has since been released uncut, so if it's gore you're after, then you won't be dissapointed. Fulci fans and lovers of low budget Italian horrors will defintely love it anyway.