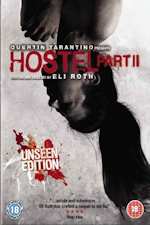 If you thought Eli Roth couldn't possibly outgross himself after the previous film, you would be very wrong indeed. This time it's the turn of 3 American girls, Beth (Lauren German), Lorna (Heather Matarazzo) and Whitney (Bijou Philips) who are studying art at the university of Rome, when they decide to go backpacking across Europe for an end-of-term holiday.
On the train they bump into a fellow college mate, Axelle (Vera Jordanova), who suggests they visit her home town of Bratislava in Slovakia, which has a very 'accommodating' hostel. Of course, sooner arriving they realise the hostel is just a front for something more sinister. Particularly when Lorna goes off on a romantic boat ride with one of the locals and fails to return (damnit, if you're in a horror film and someone asks if you want to go on a 'romantic' boat ride, NEVER say yes).
Anyway, captured and bundled off to the old factory we saw in the previous film, the 3 find themselves subjected to various methods of sadistic torture at the hands of wealthy business folk who have a strange idea of entertainment. But when one of the torturers suffers a crisis of conscience, could this be the break they need to escape?
Upping the blood and gore to levels well beyond the previous film, this is not actually a non-stop blood bath, but still has its fair share of 'ouch' moments. Without spoiling the plot, there's one torture scene that would have made Countess Elizabeth Bathory blush and I seem to recall there wasn't a single man in the cinema who didn't squirm during the death scene of one of the torturers near the end (you can leave that to your imagination).
If you liked the original you should like this, though if your a fan of Disney films you might not like to see what happens to Heather Matarazzo's character. Look out for cult Italian director Ruggero Deodato, who has a small role as a cannibalistic client.