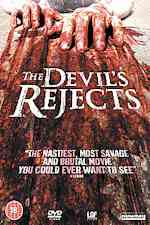 House of 1000 Corpses may have been something of a hit and miss affair for director Rob Zombie, but it had proved successful enough at the box office for Lions Gate Films to agree to a sequel.
Made as a stand alone film, whoch uses the same characters and a few plot points from the previous film, Devil's Reject's picks up sometime after the first film with the Sheriff's department surrounding the Firefly farmhouse (the infamous "House of 1000 Corpses") and attempting to apprehend the occupants.
After a full 10mins of mass gunfire between the Firefly family and police, siblings Otis and Baby (Bill Moseley and Sheri Moon reprising their earlier roles) manage to escape whilst several other family members are shot dead in the ensuing gunfire.
Hooking up with their partner in crime Captain Spaulding (played once again by Sid Haig), they take to the desert road and head off cross country, leaving a trail of death and destruction in their wake as they attempt to avoid the authorities. But the local Sheriff, officer Wydell (William Forsyth), is on their trail with a personal score to settle and isn't looking to take any prisoners...
A vast improvement over it's predecessor, although is really more of an exploitation pic than the horror film it was originally marketed as, Rob Zombie seems to have taken a few cues from Tarantino in the making of this semi-sequel as I couldn't help noticing a few similarities between this and "From Dusk till Dawn" and "Natural Born Killers", but is still a good, gory, violent outing that horror fans should enjoy.
You don't really need to see "House of 1000 Corpses" to understand what's going on, but you may wish to check it out after seeing this. Go watch this at once, if only for the hilarious scene between Ken Foree, Michael Berryman and the chicken farmer.