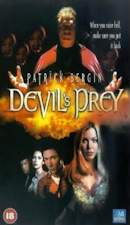 A group of friends, returning from an out of town rave party, inadvertently knock over a girl who's wandering around in the road. Finding that she's not badly injured they pick her up and attempt to drive her to a hospital. As they drive off she tells them her name is Fawn, and to everyone's bewilderment, that she has escaped from a group of bizarre devil worshippers, who intended to sacrifice her.
At first they are unsure of what to make of her story, but after being run off the road by a mysterious dark van and then pursued through the woods by a group of strange people wearing hooded robes, they realise her story is all too true and that they are now fighting for their lives.
Having spent most of the night fighting a running battle with these characters known as "Shadows", they eventually find their way to a small farming town called Howard's Point, where they are helped by the local priest (played by Patrick Bergin) and the town Sheriff (Tim Thomerson). At first it looks like their troubles are over, but it soon becomes apparent that most of the people in the town are not who they appear to be, and their troubles are far from over.
Typical 'post-Scream' teenage stalk and slash hokum, not particularly gory, and seriously lacking in female nudity, which is a great shame considering the amount of nubile young girls abound within. It is worth a watch though, Bergin and Thomerson are aptly cast in their respective role and it passed 90mins reasonably well, but otherwise a fairly unremarkable film.