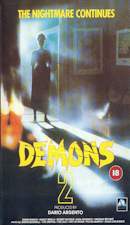 More action, violence, mayhem and horror unfold in this worthy sequel to the earlier Demons, as the tennants of an urban tower block find themselves under siege from the demon menace, as the they enter into the building through the TV sets in one of the apartments (eh???).
Set, presumably, several years on from the events of the first film. The Demons have been defeated and contained inside walled off areas of the city, to prevent their plague from spreading again. But when a documentary film crew sneaks inside to do a live broadcast to show that there is no more danger, they are quickly proved wrong as a doormant demon reawakens, kills the crew, then (somehow) dissapears inside their camera and emerges from the TV inside the apartment of young Sally Day, right in the middle of her 16th Birthday party.
The party guests are brutally attacked and quickly transformed, in a suitably gory fashion, to the tune of 'Rain' by 80s rockers The Cult and they subsequently rampage through the building, attacking the other tennants in some completely outrageous scenes.
Some of the more memorable scene include a woman being attacked by her dog after it turns into a demon, a pregnant woman having to fend off a demon baby and the people in the gym battling the creatures in the downstairs garage (with somevfamiliar faces from the first movie in different roles). As they find themselves trapped inside.
Borrowing ideas from a number of David Cronenberg films, overall, this was another excellent film much like the first. The 80's style songs also feature prominently, from diverse pop groups like Art of Noise to Heavy Rock bands like Dead can Dance and The Cult, which add to the fun feel of the film.
Pick this one up along with the first and give them a back-to-back viewing. They're both bloody good fun.