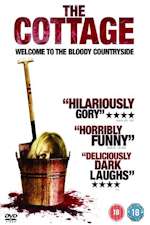 A couple of bungling kidnappers, David and Peter (played by "Lord of the Rings" Andy Serkis and "The League Of Gentleman's" Reece Shearsmith respectively) get more than they bargained for when they abduct the hostage from hell, a fiesty Liverpudlian named Tracey (played by Jennifer Ellison, who you may remember used to be in "Brookside").
Hoping to exact a huge ransom, £100,000 to be precise, from her mobster step-father, they swipe her from her home and take her to a remote country cottage. Where she proceeds to make their lives as awkward as possible with her constant tirades of non-stop abuse.
With the money being despatched via her step-brother Andrew, (Steve O'Donnel, who you may remember used to advertise Sega Megadrives back in the early 90s), they think their problems are over. But what they don't realise is that her father knows that Andrew is also in on the kidnapping plot and has despatched a couple of heavies to sort them all out.
Things just go from bad to worse for the kidnappers when Tracey not only manages to escape, but forces Peter off with her at knifepoint. With David and Andrew chasing after them, things really get interesting when they stumble across a remote farmhouse in the woods, which happens to be the homestead of a psychotic-deformed farmer who likes making mincemeat of trespassers with the various bladed weapons he keeps in his tool shed.
Whilst the film proves fairly entertaining, offering some genuinely funny moments and great one-liners, I felt that, sadly, it fell just short of the mark in both the horror and comedy aspects. The director was clearly attempting to send up slasher films in the same way "Shaun of the Dead" lampooned zombie movies (Reece Shearsmith also appears in both films), but doesn't really get the balance of horror and humour quite right.
That's not at all to say the film is a loss, but rather that it works better as a campy comedy and overall could have done with a bit faster pacing, as the horror aspect of the film really doesn't get going until about 50mins. Definitely worth checking out, but not quite in the same calibre as "Shaun of the Dead".