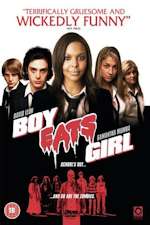 Eager to cash in on the popularity of "Shaun of the Dead" , Irish film maker Stephen Bradley quickly shot this teen horror comedy about the pitfalls of teenage love against a backdrop of zombies running amok in the suburbs of Dublin.
In this, David Leon stars as a lovestruck teenager named Nathan, who's desperately trying to win the affections of Jessica, the school heartthrob (as played by singer and occasional actress Samantha Mumba). But when his attempts to ask her out fail, he goes off and inadvertently hangs himself, when a drunken antic goes horribly wrong.
But when his mother resurrects him using a book she found in the crypt at the local church, Nathan awakes to find himself developing a bizarre taste for human flesh. Fortunately, he's a vegetarian, so chowing down on his friends doesn't initially appeal. But after biting the ear off the school bully during a scuffle, it sets in motion a series of events that leads to a zombie outbreak in the town.
With the number of undead increasing exponentially, Jessica and Nathan's friends Diggs and Henry attempt to seek refuge and fight off the zombies whilst his mother works out how to undo the zombie spell and save him. Will they survive and will Nathan's vegetarianism help stop him attacking his friends before they can undo things, or will the zombies take over the rest of Ireland?
Featuring some truly outrageous gore effects, including a zombie massacre sequence with an industrial JCB mower attachment that puts Peter Jackson's "Braindead" lawnmower death scene to shame, the film is highly entertaining. Though you may find the film actually works better as a comedy. Look out for a pre-Star Wars Domhnall Gleeson in a minor role.