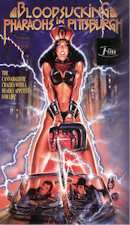 A madman with a petrol generator and a selection of electric power tools is stalking the streets of Pittsburgh, carving up various young couples, prostitutes and demented old ladies in loving detail and taking their body organs.
Investigating these bizarre killings are detectives Joe Blocker and Sweeney Birdwell (Joe Sharkey and Jake Dengal), a couple of bungling idiots, who the police chief despises with a vengeance. One of them, Blocker, dealt with a similar case in Las Vegas and is alarmed at the slew of similar killings in his new home town.
Sending for his former partner to help him look into this new case, he's surprised when the daughter Deedee (Susan Fletcher) turns up instead with news that he's since disappeared and she's convinced this is somehow connected to the Pittsburgh murders.
As the killer is leaving behind notes for the police in hieroglyphics they begin to investigate the Nefertiti restaurant in the city's Egyptian district (they have an Egyptian district?) which is run by the mysterious Jackie Cairo, but what would he want with all these bodily organs?
Borrowing elements from "Blood Feast", the film sadly misfires on the comedy side of things, and on the whole is rather dull. The special effects, believe it or not, where by Tom Savini, though with one exception, aren't particularly gory. But as this was being released by a major studio they probably cut a lot out of it.
All in all, the film proves to be mildly entertaining, but pails in comparison to other horror comedies of this ilk.