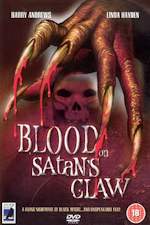 One of several films to come out in the wake of "Witchfinder General", this 1971 film by TV director Piers Haggard takes place in a small English village during the 17th century, where the locals find themselves over run with people possessed by Witchcraft.
The problems start when a local farmer ploughs up a bizarre looking skeleton that appears to be more beast than man. However, when the locals go to investigate the remains seem to have disappeared.
Shortly afterwards, the children, lead by a young girl named Angel Blake (Lynda Hayden), start exhibiting strange behaviour and performing bizarre ceremonies in the woods, which involve several disturbing scenes of rape and murder. Then several villagers start growing strange clumps of hair on their bodies, which they believe to be the skin of Satan.
The local Judge (Patrick Wymark) isn't at first convinced by the local superstitions, but after seeing first hand the unusual goings on, realises the devil is indeed at work and some decidedly "unconventional" methods must be employed in order to bring the evil to a halt (where's Mathew Hopkins when you need him?).
This film was produced by Tigon pictures, who were also behind "Witchfinder General" and were one of Hammer films main rivals back in the day. So if you like these classic medieval horrors you should definitely enjoy this..