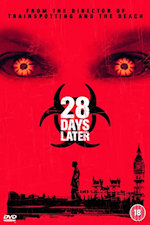 A man wakes up in a London Hospital to find the place completely deserted. Having spent the last 28 days in a coma, following a road crash, he is completely oblivious to the events that have taken place whilst he was unconscious.
Wandering outside, he is alarmed to find the once busy city is now a desolate ghost town. No sign of life, no cars, and no power, nothing. However, as he is soon to find out, he is not completely alone...
It turns out the population has been decimated by an experimental biological warfare virus called "Rage". Those the virus hasn't killed, have been turned into homicidal zombies, who attack anything that moves, as he shortly discovers.
Rescued by a small group of survivors who are holed up in an abandoned tube station, they attempt to get out of the city and make their way up to Manchester where an Army unit are broadcasting messages to any would-be survivors. But getting out of London proves to be no easy task (hell, isn't that always the case?), and when they finally do manage to break out, they find their nightmare is far from over as Major West's army camp proves to be anything but the safe haven they were looking for.
Directed by Danny Boyle, the man who gave the world "Trainspotting", this is an excellent post-apocalyptic thriller that just goes to prove you don't need a big budget to make a good film. Whilst films of this nature aren't exactly new, one remembers "The Omega Man", "12 Monkeys" and the old UK TV show "Survivors" and zombie film fans may notice one or two similarities to some of their favourites, this is still an awsome jolt of pulse pounding horror.