AKA: Tenebre, Tenebres, Unsane, Shadow, Sotto Gli Occhi del Assasino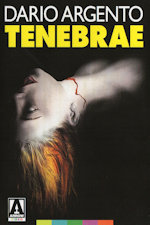 Taking a break from the supernatural themes of his previous 2 films, Suspiria and Inferno, Cult Italian director Dario Argento returned to Gialli territory (see my review of Deep Red) with this inventive "who-dunnit" that manages to successfully cross a stylish crime thriller with mainstream horror to good effect.
The films lead character is a respected horror novelist named Peter Neal (played by Tony Franciosa, a regular in US detective shows), who travels to Rome to promote his latest novel Tenebrae, only to find himself embroiled in a series of grisly murders. A serial killer has been going round hacking to death young female victims in the same styles described in his book, and then stuffing the pages in their mouths.
The police are called in to interview Mr Neal after the killer starts contacting him to boast of his crimes, but are unable to unearth the culprit. Believing the killer is someone known to him, Neal decides to do a bit of investigating himself, and aided by his assistant Anne (played by Argento regular Daria Nicoladi) and his publicity agent, Bulmer (played by horror B-movie veteran John Saxon), attempts to route out who the killer really is. But when the person he initially suspects turns up murdered himself, along with several of his closest colleagues, it becomes a deadly race against time to stop the killer before he can finally get to him.
This is arguably my favourite Argento movie, and is definitely one of his better films. I found Tenebrae to be highly entertaining and stylish, and should appeal to both horror movie and detective thriller fans alike. Girls are hacked, slashed and strangled, all in the best possible taste (the scene where the two girls in the three-storey house are killed was certainly highly watchable), whilst Neal and local police attempt to track down the killer. John Saxon puts in a good performance as Neal's troubled promotional agent, as does Daria Nicoladi (ex-Mrs Argento) as his overly protective personal assistant. Euro-horror fans should definitely love it.
Overall Marks : 7/10.
Terrifying Trivia.
Alternate Tag lines. "A Descent Into Madness", "Unrelenting terror from the maker of DEMONS, CREEPERS and SUSPIRIA".

John Saxon was a regular in Italian films and horror/sci-fi B-movies. He's worked with Umberto Lenzi, Antonio Margheriti, and Mario Bava. He is probably best known for his role as Roper in the cult Bruce Lee film "Enter the Dragon" and playing the role of Nancy's Father in the cult horror flick "Nightmare on Elm Street".

Tony Franciosa was a regular in US detective shows and films, often playing police officers. His credits include "Curse of the Black Widow", "The Drowning Pool" and "Death Wish 2".

The original US release was entitled "Unsane" and had 10 minutes of footage cut from it. The Anchor Bay release was of the full uncut version, although the hand chopping scene lost 1s of footage due to print damage. The French version entitled "Tenebres" has this scene fully intact.

The US release entitled "Unsane" also had a totally different theme tune on the end credits. This removed the original Goblins theme and replaced it with an 80's pop song "take me tonight" by Kim Wilde. All other known prints apparently contain the original main theme by the Goblins.

The UK cinema version was cut by 4 seconds, which trimmed the scene where one of the victims hands was cut off by an axe, and removed the subsequent shot of blood gushing out of the severed stump. This version was also released onto video in the early 80's, but got listed on the governments "Video Nasties" hitlist and so was subsequently withdrawn. This version was later re-issued on video in the UK in 1999. The video packaging was also altered, removing the trail of blood trickling down the girls neck and replacing it with a red ribbon (see above). The uncut version was eventually released in the UK on DVD in 2003.
Extra Info.