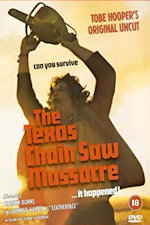 It's hard to believe that this notorious horror pic by director Tobe Hooper, could have caused so much controversy when it was released back in the 1970's.
Set deep in the heartlands of Texas, a group of youths go out for a sunny afternoon drive in their van. With news reports on the radio of their being a spate of grave robbings in the area, they decide to go visit one of the old cemeteries to see if their grandfathers grave has been disturbed.
They run short of fuel on the trip home and the Gas station claims to have run out until the next delivery, which won't be till later on in the day. With no option but to hang around, they decide to visit their old families home, which is just down the road from the Gas station and now stands empty and abandoned.
Unfortunately, it seems they have acquired some new neighbours. As one by one they go off to explore the surrounding area and run into Leatherface (Gunnar Hansen) , a chainsaw wielding maniac who sports a mask made of Human flesh.
In the end only 2 are left, Sally (Marilyn Burns) and her wheelchair bound brother Franklin. With night setting in they go off to hunt for their friends, only to come face to face with Leatherface's chainsaw and poor old Franklin encounters a bit of trouble in running away (poor sod). The rest of the film is then spent with Sally being chased around by Leatherface, meeting up with the rest of his cannibalistic family and screaming an awful lot.
Overall this is a very good film, but hasn't withstood against aging very well (check out the flared trousers and awful 70's style hairstyles). Probably the most memorable scene is were one of the girls is hung on a meat hook, then forced to watch as Leatherface carves up her dead boyfriend with his saw.
The film isn't all that gory in particular, but it is extremely suggestive and such was it's impact on the UK censors back in 1974, that it was refused a general release certificate for the cinema and remained banned on video until finally passed by the BBFC for both cinema and video release in 1999.
Supposedly based on a true story (yeah right), the notoriety this film achieved during it's initial release was such, that it is still regarded as a classic horror film by both critics and fans alike to this day.
Overall Marks : 7/10.