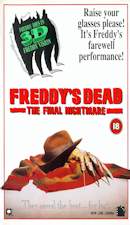 More like they saved the worst till last, and this was still not to be the final Elm Street film either. Starting afresh with a completely new cast, Freddy is still on the rampage in his home town and we are told that all the teens there are now dead and the adults are all going mad.
One teenage survivor (Shon Greenblatt) has escaped the town and made his way to the next city, where the local police find him wondering round in a daze suffering from amnesia. Believing him to be a homeless drug addict, he is taken to a youth rehabilitation hostel in the hope the psychologists there can discover who he is and where he came from.
There he meets Dr. Maggie Burroughs (Lisa Zane), who attempts to help him by taking him back to his home town to see if he can recall anything. Bad Idea! Stowing away in the back of the truck were some of the other kids from the hostel and after arriving at the town, Freddy proceeds to invade their dreams not only killing them, but actually sucking them into his reality and totally removing them from existence.
Only Dr Burroughs and one of the teens, Tracy (Lezlie Deane), survives and so together they head back to the hostel to try and work out how to combat Freddy. Fortunately one of the therapists there, "Doc" (Yaphett Kotto), specialises in dream therapy and thinks he has the answer. All they have to do is grab Freddy when they're asleep and then wake up, thusly bringing him into the real world where they can battle him (despite the fact it had already been tried in parts 1 and 2)
So, Maggie decides she is the one to do this and therefore sets the scene for the final confrontation which starts in the dream world and ends in reality, in an extremely dull, over-the-top 3D special effects sequence, which also attempts to show us how Freddy grew up and why he started killing children, after his daughter was taken into care (his daughter being none other than Dr Maggie Burroughs herself). Some excuse eh?
This film plain sucks, the killings are both predictable and boring and the emphasis of the film seems to be firmly on special effects sequences and not horror.
Overall marks : 3/10.