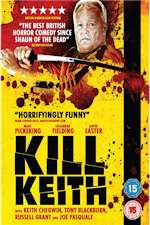 I remember first hearing about this bizarre horror pic, starring madcap British TV host Keith Chegwin, sometime back in 2011 and was understandably curious about it. Sadly, the film disappeared from cinemas almost as quickly as it arrived, so was forced to wait for the DVD release. But is it any good I hear you ask? Read on...
The film revolves around the cast and crew of an early morning TV show called "The Crack of Dawn" (cue lots of smutty "Carry On.." style innuendo). In particular, the shows presenter Dawn (Susannah Fielding) and young Danny (Marc Pickering), who's part of the floor crew and has a major crush on her, and then there's Keith Chegwin, who has a feature on the show called "Cheggers Knocks You Up" (har-har)!
However, the show has been marred by a spate of bizarre murders, by someone dubbed the "Breakfast Cereal (serial) Killer". As several crew members and guests on the show have turned up dead. Suspicion falls upon one of the creepier members of the crew, Brian Stokes, who's nicknamed "The Vampire" by the rest of the staff, but it also seems that the show's co-presenter Chris is up to no good, hence why he's leaving the show.
With more and more guests and crew members getting bumped off, including DJ Tony Blackburn and comedian Joe Pasquele, Danny and his friend Andy (Simon Phillips) try to work out who the killer might be, before he wipes out everyone on set. What has this got to do with Keith Chegwin I hear you ask? Well, not much really as, believe it or not, he's not actually the central character and whole story about the killer is more of a sub-plot within the film.
Whilst Keith does get his fair share of on-screen time, the story's main focus is actually about Danny trying win Dawn's affections. But once you accept that's what the main focus of the film is, this isn't actually a bad movie, though it's really more of a comedy, than a horror. However I'm pleased to say the gags do actually work quite well and there are some genuinely funny scenes in here. It was also amusing seeing all these well known British TV stars, which also includes Porky astrologer Russell Grant, appearing out of character and uttering profanities at the camera.
Overall I would say the film is definitely worth a watch, if only for seeing Joe Pasquale say "Fuck Off", and has a sort-of "Shaun of the Dead"/"Hot Fuzz" vibe to it, so if you enjoyed those, you'll probably enjoy this. Though if you don't live in the UK, you probably won't know who many of these celebs are, and so much of the humour will undoubtedly be lost, so I can only really recommend this to UK viewers.
Overall marks : 5/10.
Terrifying Trivia.
One of the promotional tag lines for it's theatrical release was "Not in most cinemas from November 11th"

When Keith Chegwin was first approached to appear in the film by director Andy Thompson, he hadn't even written a script or had any idea what he was going to make the film about. He simply wanted to do a horror film with Keith Chegwin in, and wanted to make sure he was interested before forging ahead.

The original idea for the opening credits was to have have the killer watching clips of "Swap Shop" (a former kids TV show which Keith Chegwin also starred) in a basement full of torture instruments. But this idea was changed to a scene of the killer torturing someone by pelting milk and cereal at them.

When reading the script, Tony Blackburn didn't realise he was actually going to be playing an impersonator, and ended up learning the wrong lines.

TV presenter Vanessa Feltz was also supposed to have a role in the film, but scheduling conflicts prevented her from being able to film her scenes, so her part was dropped.

Keith Chegwin also had a minor role in "Shaun of the Dead", providing the commentary on the zombie game show on TV at the end of the film.

Director Andy Thompson also co-directed the 2009 horror film "The Scar Crow". Pete Benson, who co-directed that film with him, also worked on Kill Keith as a writer.
Extra Info.