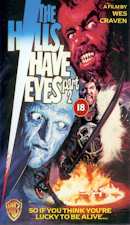 Well it's been eight long years since the events of part one, and one of the survivors, Bobby Carter (Robert Houston), is now the leader of a motorbike racing team. However, Bobby is still somewhat traumatised by the events that took place all those years ago, so much so that when his team are asked to compete in a desert race tournament, which is not too far from the place his family were attacked, he finds himself unable to go.
The rest of the team decide to go anyway, and Bobby's partner Rachael (Janus Blythe) agrees to take his place on the trip. Unfortunately, they hit a slight snag on route and so decide to take a short cut across the desert to prevent them missing the start of the race.
Now this is where things start going a bit silly. Rachael is actually Ruby, the daughter of the cannibalistic clan from the first film, and yet when they decide to cut across the desert in their bus she seems to do very little to try and talk them out of it, despite the fact she knows who might still be lurking about in the area.
Predictably enough, their bus's fuel tank springs a leak and ends up breaking down on an old dirt track next to an abandoned silver mine (presumably the same one that the Carters where looking for in part one). Anyway, the next thing we know is Pluto (Michael Berryman) from the first film pops up, along with his uncle Reaper (John Bloom) and they start trying to pick off the stranded teens.
Now the silly thing here is that inspite of having a rather nasty run in with these cannibalistic retards, rather than staying together and preparing to defend themselves against further attacks, they start roaming around the place and playing practical jokes on each other, then getting bumped off rather stupidly as a result. In the end, only one of the bikers is left along with his blind girlfriend and how they finally manage to defeat Reaper and Pluto defies belief.
Directed again by Wes Craven, this isn't a patch on the original. The film isn't altogether bad, but it comes across as being just a typical 80's stalk and slash pic, and is very reminiscent in many ways of "Friday the 13th". Which is kind of ironic as the music was scored by the same composer, Harry Manfredini, one of the main characters was played by Kevin Blair, who also starred in Friday the 13th pt 7 and the stunt work was by Kane Hodder who played Jason in the later Friday the 13th sequels.
Overall Marks : 5/10