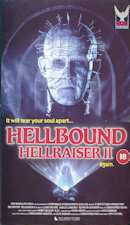 Following on directly from the first film and Kirsty Cotton (Ashley Lawrence), has been taken to a nearby psychiatric hospital for her to recover from the traumatic events of the previous film.
Unfortunately though, the head of the practice, Dr Channard (Kenneth Cranham), turns out to be another idiot with a fanatical interest in the old Chinese puzzle box and so resurrects Kirsty's evil stepmother, Julia (Clare Higgins), in order to help him open it and unleash it's power.
They manage to solve the box's combination by giving it to a patient called Tiffany (Imogen Boormen), a young mute girl with a talent for solving puzzles. Pinhead (Doug Bradley again) and his group of Cenobites appear, but fortunately they leave her alone and instead take Dr Channard. Pinhead explains "It is not hands that summon us, it is desire!" and so Channard gets dragged off to their realm and turned into one of them.
Meanwhile, Kirsty and Tiffany enter the Cenobites macabre world to see if they can find the soul of her Father Larry, in the hope that they can free him. Although they don't manage to find him, they do come across her Uncle Frank and are forced to flee, only to come face-to-face with Pinhead again and the now Cenobitised Dr Channard, who wants to take over and spread the Cenobites terror into the real world. Hard times ahead for our young heroines methinks!
Compared to the original this is a very worthy sequel and fans of the first film should not be disappointed with it. There's plenty of blood and nastiness and we even get to learn of how Pinhead came to be.
Overall Marks : 6/10