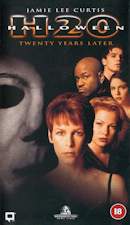 Released to coincide with the 20th anniversary of the original film, this entry into the series sees the return of original scream queen Jamie Lee Curtis, reprising her role as Laurie Strode.
Largely ignoring the later sequels and going back to the original, it's been 20 years since the original Halloween murders took place and Laurie Strode, who has since changed her name to Keri Tate, is now the senior headmistress at a private school in California. Still plagued with nightmares about Michael Myers coming after her, she is secretly a nervous wreck, on permanent medication and constantly binging on alcohol.
Now you may remember that in Halloween 4 (which was the 10th anniversary special) we were told that Laurie had been killed in a car crash. Well, the film doesn't totally ignore parts 4, 5, and 6, we are told that she faked her death in order to protect her life, in case Myers ever tried to come after her again.
Well, Dr Loomis, having died a couple of years ago, had some fairly comprehensive files on her and Michael Myers (remember that actor Donald Pleasance passed away shortly after completing part 6) and these files are now in the possession of his nurse Marion Whittington (The nurse in Dr Loomis's car in the original Halloween, played once again by Nancy Stephens). Following a break in at her house, a few throat slashings and a rummage through the late Dr Loomis's files, Laurie's secret is out and Myers prepares to finally finish what he started all those years ago.
As the evening of October 31st draws in, the rest of the school departs on a camping trip, leaving just Laurie, her son John (Josh Harnet) and a few of his teenage friends at the school alone. Meanwhile, Michael gets inside the school complex and Laurie is forced to face the masked killer and confront her greatest fears one last time, in a final duel to the death.
Expertly directed by Steve Miner, who also worked on some of the earlier Friday the 13th's, Halloween H20 contains all the frightening fun that made the original film such a landmark classic. There are obvious efforts that have been made to update the franchise and bring the series in line with the current trend of "scream-esq" style horror films, and in my opinion it's all the richer for it!
Released to UK cinema's during October 1998 this, the seventh Halloween film, proved highly successful at the box office, despite parts 5 & 6 going direct-to-video here in the UK. Look out for Janet Leigh (Jamie Lee Curtis's real life mother) and rapper L.L. Cool J who have guest starring roles. It was just a pity Donald Pleasance couldn't return as Dr Loomis one last time!
Overall Marks : 8/10.