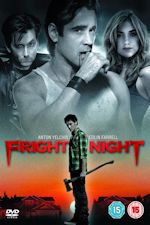 Yet another one of the multitudes of films being remade, this one, which remakes Tom Holland's classic 1985 vampire tale, stars Anton Yeltzin (yes the guy who plays Chekov in the new Star Trek series of films) as young Charlie Brewster, who's living with his single parent mother in a nice suburb outside of Las Vegas.
In his final year at school, he spends most of his time trying to avoid his former friend, 'Evil' Ed Lee (Christopher Mintz-Plasse), the school nerd, now that he's got a new bunch of friends to hang round with. So when Ed finally corners Charlie and tries to warn him that his new neighbour Jerry (Colin Farrell) is a vampire and is the real reason why a lot of families in the neighbourhood have 'disappeared' lately, this is all the proof he needs that they no longer need to be friends.
Whilst Charlie is aware that Jerry does seem a bit strange, only going out at night, doing lots of strange building work in the basement and generally being creepy, he thinks that being a vampire is a bit of a stretch. But then when Ed disappears and Charlie hears a woman screaming next door, he decides to investigate what Jerry really gets up to at night and finds that Ed might have actually been onto something...
Attempting to enlist the help of Las Vegas magician Peter Vincent (played by former Dr Who David Tennant) who claims to be a vampire expert. Needless to say, he doesn't react well to Charley talking about a vampire living next door to him and kicks him out. But it seems Peter Vincent does indeed know a thing or two about vampires and when he himself gets an unwanted visitor late one evening, soon changes his mind about helping.
But with Jerry determined to put paid to the meddlesome Charlie, and managing to find all sorts of ingenious ways to get around the old problem of vampires needing permission to enter someone else's house, things gear up for a spectacular final battle.
Whilst there was really no need to remake this classic vampire tale, I thought the film makers did a good job in updating the story and putting a few twists in the plot to try and make it different from the original, though at its core its still essentially the same story. Viewed on its own merits its still a very enjoyable comedy-horror though and I thought David Tennant's character as the drunken Peter Vincent was hilarious. And I also thought Colin Farrel, Anton Yeltzin and the other cast members were also aptly cast. There were also some good gags, so I would say the film is definitely worth a watch, its just that there's nothing really 'stand out' about this film.
The film was originally shown in 3D at the cinemas, but having seen both the 3D and standard 2D version, the 3D does nothing to enhance the film and you don't miss anything in the 2D version, so if you don't have one of those expensive 3D TVs, don't worry, just watch the standard version.
Overall Marks : 5.5/10.