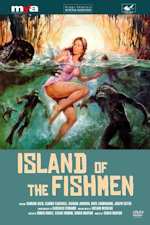 Heavily borrowing from "Island of Dr Moreau", cult Italian director Sergio Martino's similarly themed fishy tale takes place on a remote island somewhere in the Caribbean Sea. Where a group of sailors from a crashed prison ship, lead by Lt Ross (played by Claudio Casselini, who's a regular in Martino's films), find themselves washed ashore.
As they wander off in search of food and shelter, they predictably start getting picked off by some unseen creatures, which aren't typical of the local wildlife. After wandering round some more, the remaining survivors are surprised to discover the island is inhabited by an English man named Edmund Rackham (Italian movie regular Richard Johnson).
Rackham initially offers them help and shelter, claiming that he and his colleague Professor Marvin (Joseph Cotton), are there to study the bizarre aquatic creatures who have been attacking them. But it actually turns out that the creatures are part of some genetic experiments the Professor has been conducting on the natives, as they need the Fishmen to recover a stash of lost treasure from the ocean floor.
But when a battle erupts as the Fishmen turn on Rackham and the Professor, Lt Ross finds he's in a race against time to try and get back off the island before he too ends up as fish-bait.
Also starring Barbara Bach (Mrs Ringo Starr herself, who was another regular in Martino's films), whilst this may not be an original film by any stretch of the imagination, being heavily derived from the aforementioned "Island of Dr Moreau" and mixing in elements of "The land that time forgot", with a bizarre subplot about the island being part of the lost city of Atlantis, if your like me and you're a big fan of these cheap and cheerful Italian knock offs you should thoroughly enjoy this.
Overall Marks 6/10.